Graduate School of Economics
Discussion Meeting Between Graduate Students and Faculty
Participants: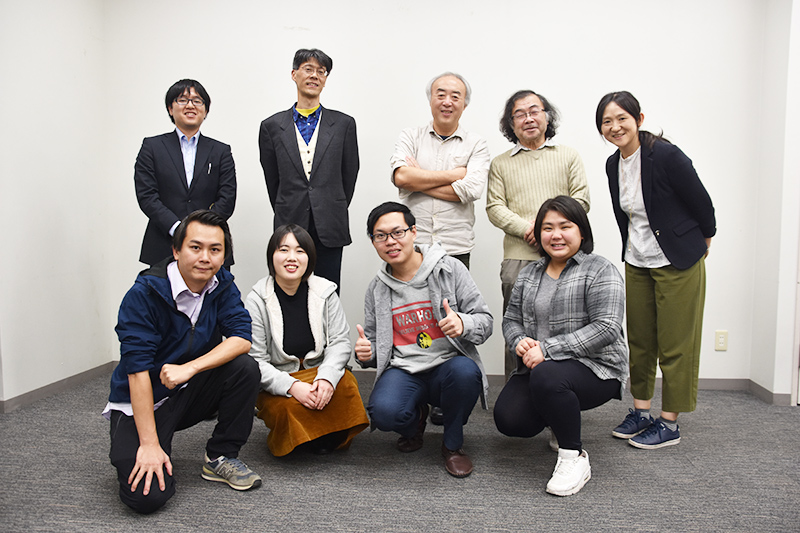 Graduate Students -

Zheng, Mai, Shinomoto, An
Faculty -

Kazumi Asako, Zhijia Yuan, Yasushi Hayashi, Isao Taira
Facilitator -

Shunichi Nishikiori
(This meeting was held in October 2018.)
Nishikiori Today, we want to have an open discussion about the research activities and daily life at Rissho University Graduate School. Let's start with the students. What are the subjects of all your research?
An The theme of my research is the Comparison and Outlook on the Development of the Piano, and the Piano Industry in Japan and China.
Mai Mine is the Examination of Vacant Houses and Lots in Japan.
Zheng The tentative title of my theme is the Transformation and Issues of the Chinese Apparel Industry in the International Division of Labor.
Shinomoto I am writing a thesis with a theme entitled "Transition and Outlook on Financial and Economic Education in the Japanese Educational School Education".
Nishikiori Thank you. First, I want to ask why you chose to study at the School of Economics.
Zheng When I first came to the school, I was overwhelmed by the solemn and serious atmosphere at Rissho. It was hard to snap out it once I became immersed. But later when I met my professor for the first time, I had such an enjoyable time that it became the moment I decided to apply for Rissho's graduate program. The faculty at Rissho are all very earnest and serious in providing academic support towards the students, each based on their research theme.
Mai I chose Rissho for three reasons. One is its long and rich history. Second,it's close to Osaki Station making it very convenient, and the environment of the campus is very good. The other is the extremely high quality of the faculty and the famous economists of Japan that teaches at Rissho.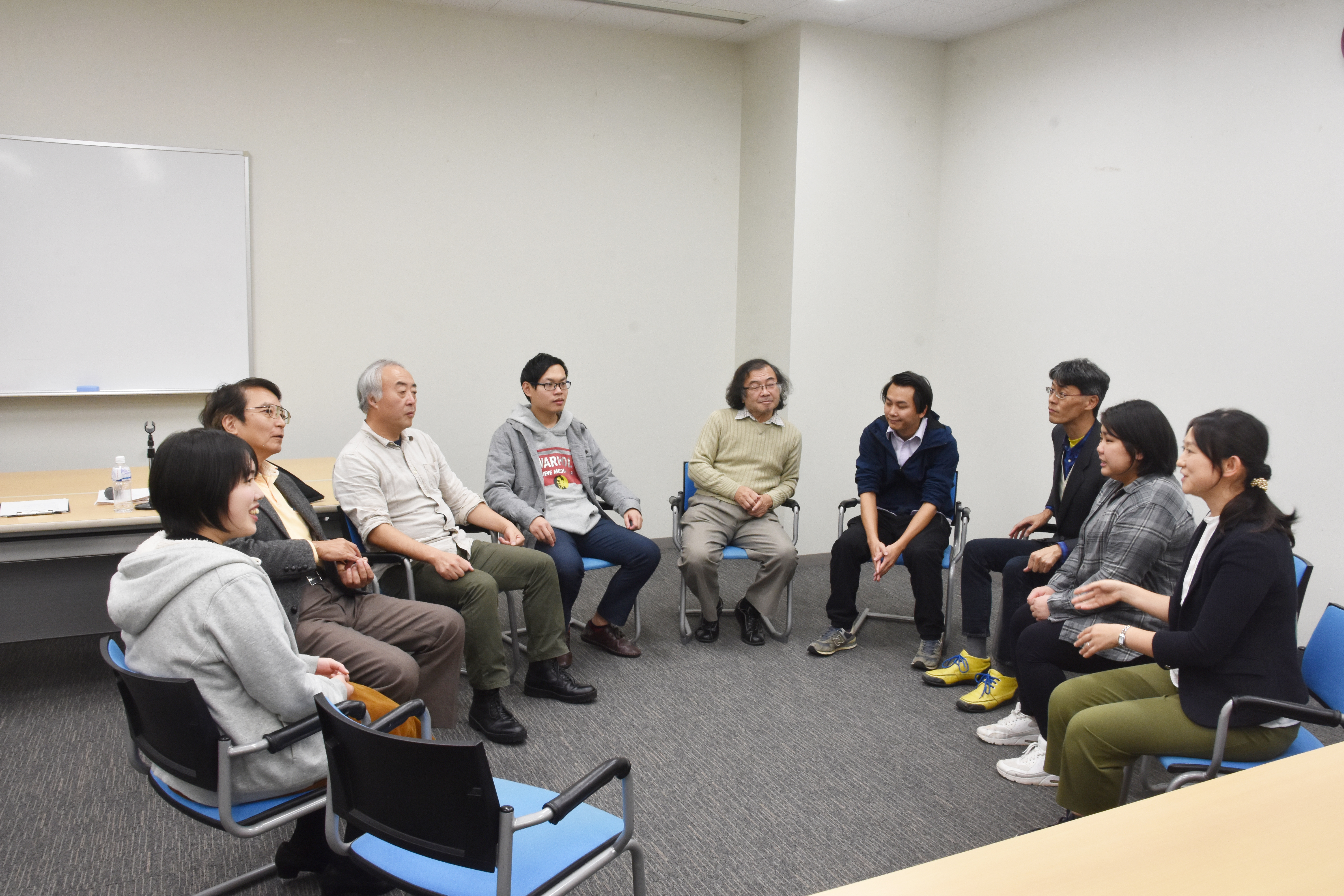 Nishikiori Thank you. Ms. Shinomoto, you did your undergrad at Rissho as well, right?
Shinomoto Yes. I was in Professor Katsunobu Kitahara's seminar when I was an undergrad. I was interested in education, especially financial education and began my graduate research under Professor Yasushi Hayashi.
Nishikiori Ms. An, you're a first-year grad student. What is a regular day like for you?
An The exchange student life here at Rissho is very fulfilling. On Friday for example, I attend my second-period class starting from 10:40 AM to 12:10 PM, then I have a lunch break at the cafeteria for 40 minutes and then go to the seminar and thesis guidance during third-period from 12:50 PM to 2:20 PM. Once I'm done with the seminar, I go back to the lab to edit my thesis. We have open access to the lab and the library.
Nishikiori Mr. Zheng, you are a doctoral student at the graduate school. What is your week like?
Zheng I spend three days out of the week either working part time, reading books, or thinking about various concepts for my thesis. The other three days I don't have work, I am at the lab in school or spend my time focusing on my research and studies. On the remaining day, I take classes at the school, and if I have questions about my research from the week, I discuss with my professor to come up with a solution.
Nishikiori What is it like in the School of Economics?
ShinomotoThere are always students in the grad student lab. They are either studying quietly or having a heated discussion. The students are of all ages and from different regions of the world, so it's fun being able to learn from different perspectives.
Nishikiori One of the characteristics of the Graduate School of Economics from my perspective as a stuff is that, I feel that we are a close-knitted group. The students are close not only with their advisors but also with the professors who are not their advisor. I think having a safe environment for seminars where the students can easily ask questions is very important. The exchange students may not be fluent in Japanese at first, but they all improve as they take classes and interact with other grad students. I want them all to be proactive in writing and speaking Japanese.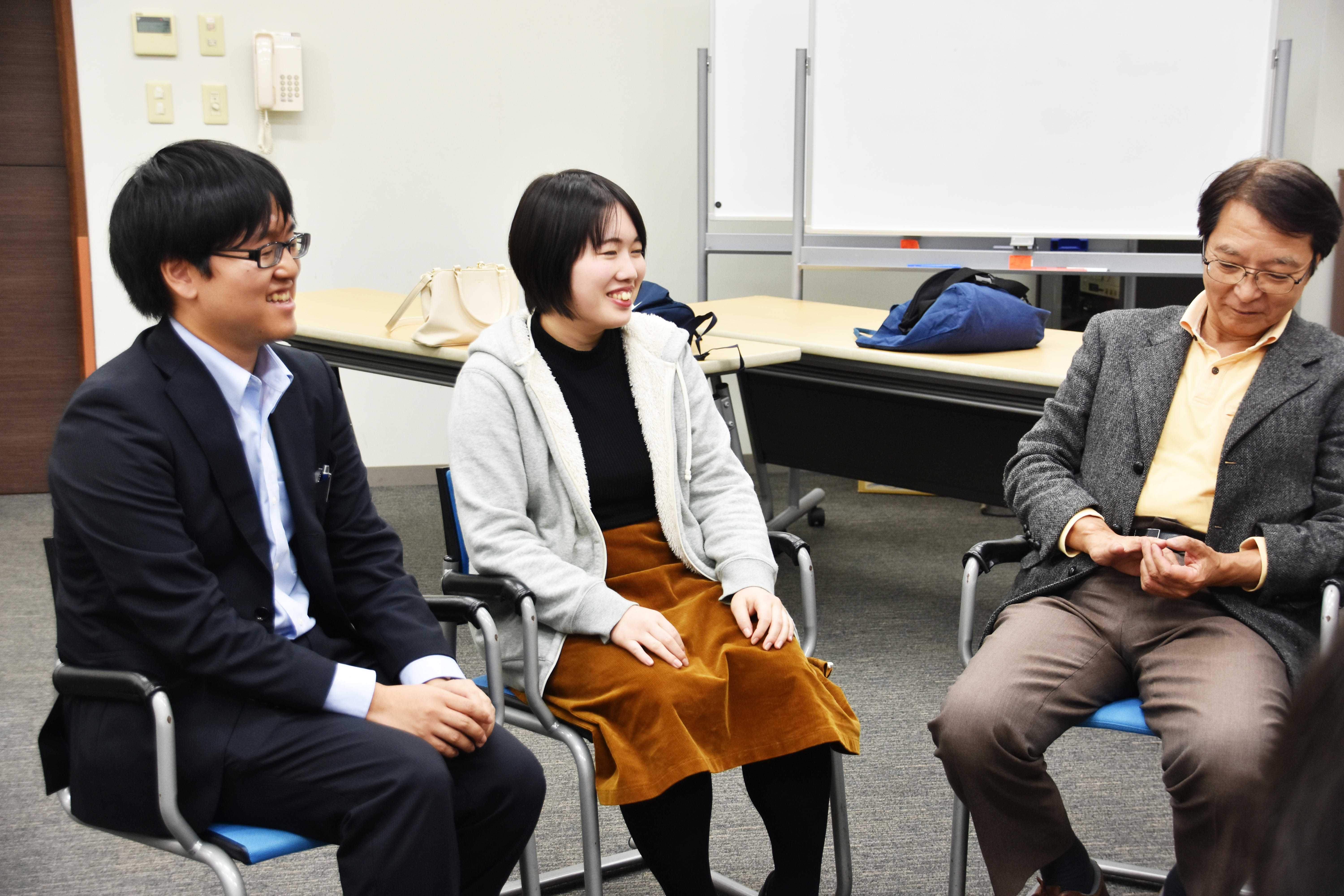 NishikioriProfessor Taira, from your perspective, what is the appealing point of the research environment of the Graduate School of Economics?
TairaI think the small number and the family-like atmosphere. If they have ever have a request, we try to make references available in the grad student lab for writing theses. We also allocate time for students and faculty to interact outside the classroom, such as guidance and extracurricular study groups.
NishikioriMs. An, what is it like from a student's perspective?
AnI think it's great. If you want to compare and study the elements between Japan and China, Rissho has the perfect environment, and faculty who are all well-versed in this field.
NishikioriI want to move on to talking about the research advisory system. Professor Yuan, you advise a lot of students, but what kind of approach do you take in your guidance?
YuanMy aim is to nurture their abilities in researching independently. I work with students on a one-on-one daily basis to gradually establish a habit for them to think and identify problems independently. My general approach is to help the students accumulate these kinds of abilities to identify the problems and issues at hand.
NishikioriMr. Mai, what do you think of the school's approach?
Mai The thesis guidance system is very unique. The school has a seminar centered around your advisor, so the faculty and the students are constantly working closely together. Even though we have classes and seminars, we can spend more time working on our research theme. It is imperative that the thesis be original and one of a kind, and the faculty encourages the students to think on their own. A thesis is an accumulation of the thoughts and opinions that were exchanged between faculty and the student. My advisor is Professor Kazumi Asako. He has immense knowledge in the study of the Japanese economy, and since my research theme is as such, I was able to gain a lot of advice from him, of which have greatly been beneficial for my thesis.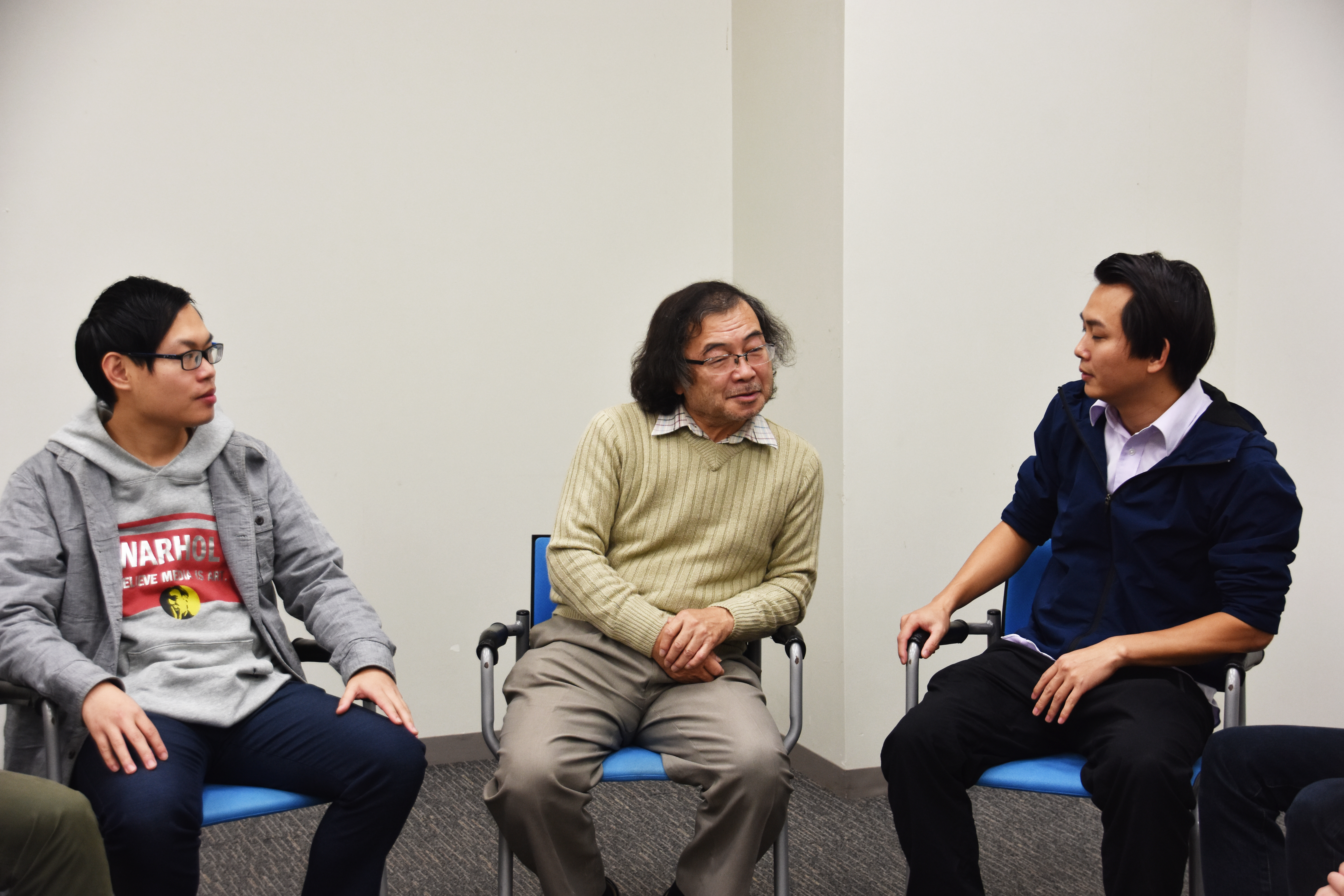 NishikioriIt's great that you were able to have him as your advisor. Professor Asako, can you give us a short message to students that aspire to researching economics at a graduate school-level?
AsakoGraduate schools provide a great opportunity to study different approaches to economics and to examine the theme of your interest in detail. If you have done it once, you will be confident in your abilities in applying your experience to other themes that you may come across after graduation.
Nishikiori I want to ask about getting work. What are your plans after graduation, Mr. Zheng?
Zheng If I graduate according to plan, I want to be a teacher.
NishikioriI heard that you are looking for work in Japan, Mr. Mai?
Mai Yes, I have begun looking for employment in April. At first, I didn't know where I wanted to work, so I went to a large orientation exhibition at Big Sight. After that, I decided on what I wanted to do and where I wanted to work based on my personality and what the companies were looking for. The SPI tests and interviews were the hardest things about job hunting. When I started looking for work, I was rejected from all the companies I applied, and I almost wanted to give up, but I kept going. Japan has many recruitment websites and organizations for foreign exchange students. They will help you with interviews and teach you how to write a resume for free. Career forums for exchange students happen regularly, too. I recommend everyone to take advantage of that. It will be extremely useful for any exchange students looking for work in Japan.
Nishikiori Thank you. The faculty advises students at the Graduate School of Economics to start looking for jobs early. Professor Hayashi, how do you want the grad students to be when they start working in the real world?
HayashiI want them to think about the concept of "give and take", and apply that to not only in their relation to work, but to their families and society in general. Simply put, someone who is on the opposite spectrum of those suffering from the "Little Emperor Syndrome." I hope that our students will exemplify the "one for all" spirit.
NishikioriLastly, can you give a short message to all prospective students looking to study at the Graduate School of Economics?
Mai Rissho University Graduate School of Economic teaches its students with a sense of responsibility. They are there for the students in their studies, research, and job hunting processes, and supports us in various ways. What I want to say to the younger students is that I am extremely happy and proud to be a part of Rissho University Graduate School of Economics.
AnRissho is full of faculty members who are genuine educators. Just like the students who came before me, I want to study and be taught in this environment to becoming useful resource and member in the real world. Rissho has an excellent research environment. As long as you have the will to learn, the professors here will teach you passionately in their respective fields.