Enjoy your campus life with a 360° view!
The Rissho University 150th Anniversary Memorial Hall has been completed.
『Experience it in 360°video! Introducing Rissho University 150th Anniversary Memorial Hall』
Rissho University celebrates its 150th anniversary in 2022, and the 150th Anniversary Memorial Hall is a new school building built on the Shinagawa campus as one of the commemorative projects.
We invite you to experience the new school building in 360° video.
Expedition of Rissho University Sinagawa campus!
From the map of the Shinagawa Campus posted here, you can experience actual campus life through class scenes and facility introductions. Please click on the ★ symbol on the map to see the campus scenery in each area, and feel as if you were at an open campus of Rissho University Faculty of Economics.
Rissho University mascot character "Moraris" hidds somewhere!
How many can you find?
The answer is at the bottom of the page.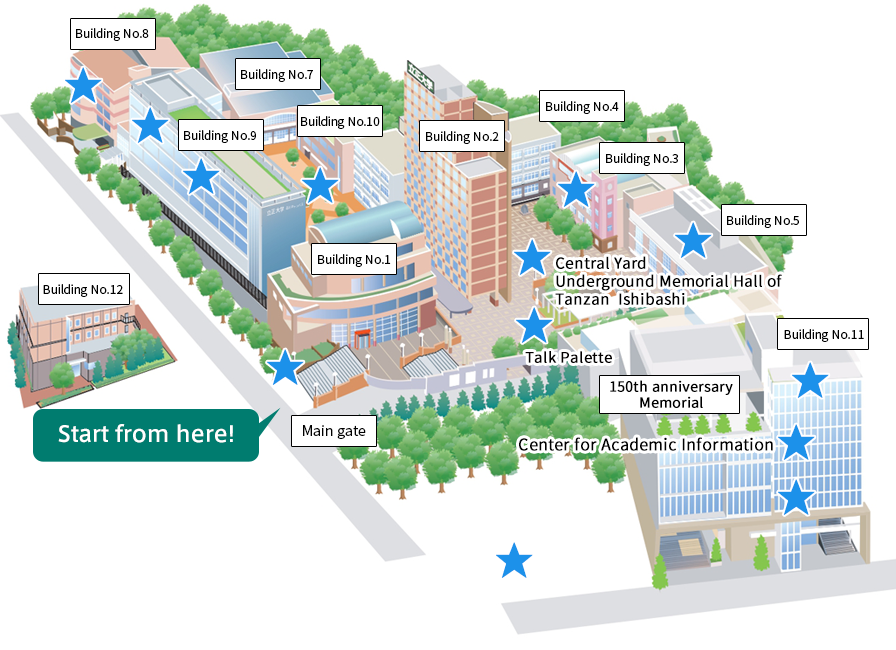 Campus life of students in the Faculty of Economics-Life and Study
Facilities and student life
Rissho University Shinagawa Campus is a city center campus with 3 stations from Shibuya Station on the Yamanote Line, 2 stations from Shinagawa Station, and a 5-minute walk from Gotanda Station/Osaki Station. Students in the Faculty of Economics spend four years in this convenient location and quiet environment adjacent to a residential area.

■Main Gate
At the main gate, there are four stone pillars engraved with the words of truth, justice, and peace, which are the spirit of Rissho University's founding. These stone pillars are made in the image of the stone pillar of ancient Ashoka king of India.

■Library
From the 3rd basement floor to the 3rd floor above the ground, this library has not only academic books but also media such as newspapers and magazines, personal computers for self-learning, soundproof room for discussions for preparing seminars and mini-classes of various software and so on.

■Talk Palette
Talk palette is a space for gathering and relaxation where students can enjoy light meals and coffee. One part of talk palette facing the central yard is used as an open cafe, which is very popular with students. During breaks between lectures, it is also used for resting or meetings

■Square
Square is surrounded by Building No. 3, Building No. 4 and Building No. 5, which have classrooms, and Building No. 2, which has teachers'offices. There is also a wisteria terrace there, and you can enjoy beautiful flowers in spring even though even though you are in a campus in the center of city.

■Central Yard
The central yard is the space between Building No. 9 with classrooms and Building No. 7 with school cafeteria and gymnasium. A kitchen car comes at noon, so you can enjoy lunch with your friends in a chair with a parasol.

■Career Center
Career center provides job-related support. In addition to information of each company, the center is also in charge of public servant examination preparation and holding company information session.
The Faculty of Economics holds employment support seminars for the students since the first grade, and employment counselors provide support such as practice of group work and practice of job interviews.
Introduction of Lectures
Undergraduate and graduate Lectures are provided in Buildings No. 3, No. 4, No. 5, No. 9, and No. 11 that have various classrooms, such as seminar rooms for about 10 people, large classrooms for about 400 people, and rooms with computers. Here we introduce some of them.
■Lectures of Econoics
Macroeconomics studies the economic activities of a country.
Microeconomics studies the activities of consumers and firms and the economic relationship between them
■Freshman Seminar
Freshman seminar is a class with about 15 students of first grade. Students learn how to study at university and make presentations for seminars from the second year.
■Seminar (some cases)
The Faculty of Economics holds about 30 seminars every year.
Every year, students summarize what they have learned at each seminar in a paper and present the results at the autumn seminar conference.
Here are some cases of what you can learn at the seminar.
・Seminar for Historical Demography
Students consider the relationship between the increase and decrease in population and the economy of the Edo period.
・Seminar for International Economy
Students learn about the economic activities by the lectures, also by associating them with the economic issues in the news and newspapers.
■English conversation on Skype
English conversation on Skype is established for International course. Students practice English conversation with students from overseas affiliated universities using a computer with videophone software.
■International Monetary Economics:
Students learn about the state of an economy with transnational finance and economic policies based on economic theory. There is also a class called Corporate Finance, which gives priority to the students of financial course.
■Monetary Economics (Graduate School)
Students can develop a better understanding of the financial systems and market mechanism.
■Fieldwork of Economics (out-of-school training)
Fieldwork of economics is a course estabilished for economic course. In this class, students go to the field to conduct surveys to learn about local economic activities.
How many Moraris did you find?
Check the correct answer by clicking on Moraris on the left!

5 correct answers!

They are in Talk Palette, Central Yard, Freshman Seminar, English conversation on Skype, Monetary Economics in Building No. 8.

Did you find them?